Chapter 3

Data Visualisation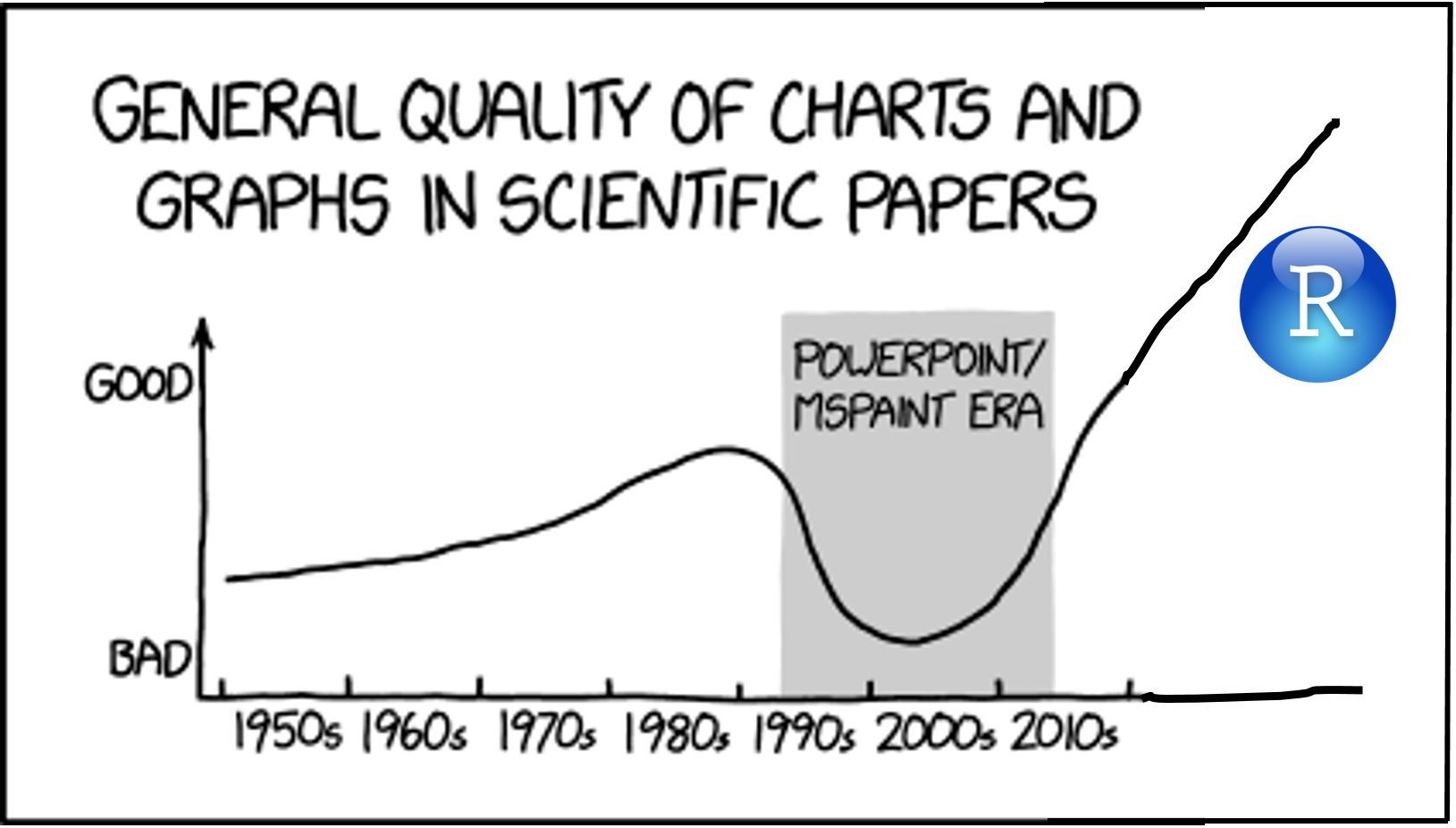 Take the quiz to see if you need to review this chapter.
3.1

Learning Objectives
3.1.1

Basic
Understand what types of graphs are best for different types of data

1 discrete
1 continuous
2 discrete
2 continuous
1 discrete, 1 continuous
3 continuous

Create common types of graphs with ggplot2
Represent factorial designs with different colours or facets
Save plots as an image file
3.1.2

Intermediate
Superimpose different types of graphs
Add lines to graphs
Deal with overlapping data
Create less common types of graphs
3.3

Common Variable Combinations

Continuous variables are properties you can measure, like height. Discrete (or categorical) variables are things you can count, like the number of pets you have. Categorical variables can be nominal, where the categories don't really have an order, like cats, dogs and ferrets (even though ferrets are obviously best). They can also be ordinal, where there is a clear order, but the distance between the categories isn't something you could exactly equate, like points on a Likert rating scale.

Different types of visualisations are good for different types of variables.

Before you read ahead, come up with an example of each type of variable combination and sketch the types of graphs that would best display these data.
1 discrete
1 continuous
2 discrete
2 continuous
1 discrete, 1 continuous
3 continuous
3.3.1

Data

The code below creates some data frames with different types of data. We'll learn how to simulate data like this in the Probability & Simulation chapter, but for now just run the code chunk below.
pets has a column with pet type
pet_happy has happiness and age for 500 dog owners and 500 cat owners
x_vs_y has two correlated continuous variables (x and y)
overlap has two correlated ordinal variables and 1000 observations so there is a lot of overlap
overplot has two correlated continuous variables and 10000 observations
First, think about what kinds of graphs are best for representing these different types of data.
3.5

Customisation
3.5.1

Labels

You can set custom titles and axis labels in a few different ways.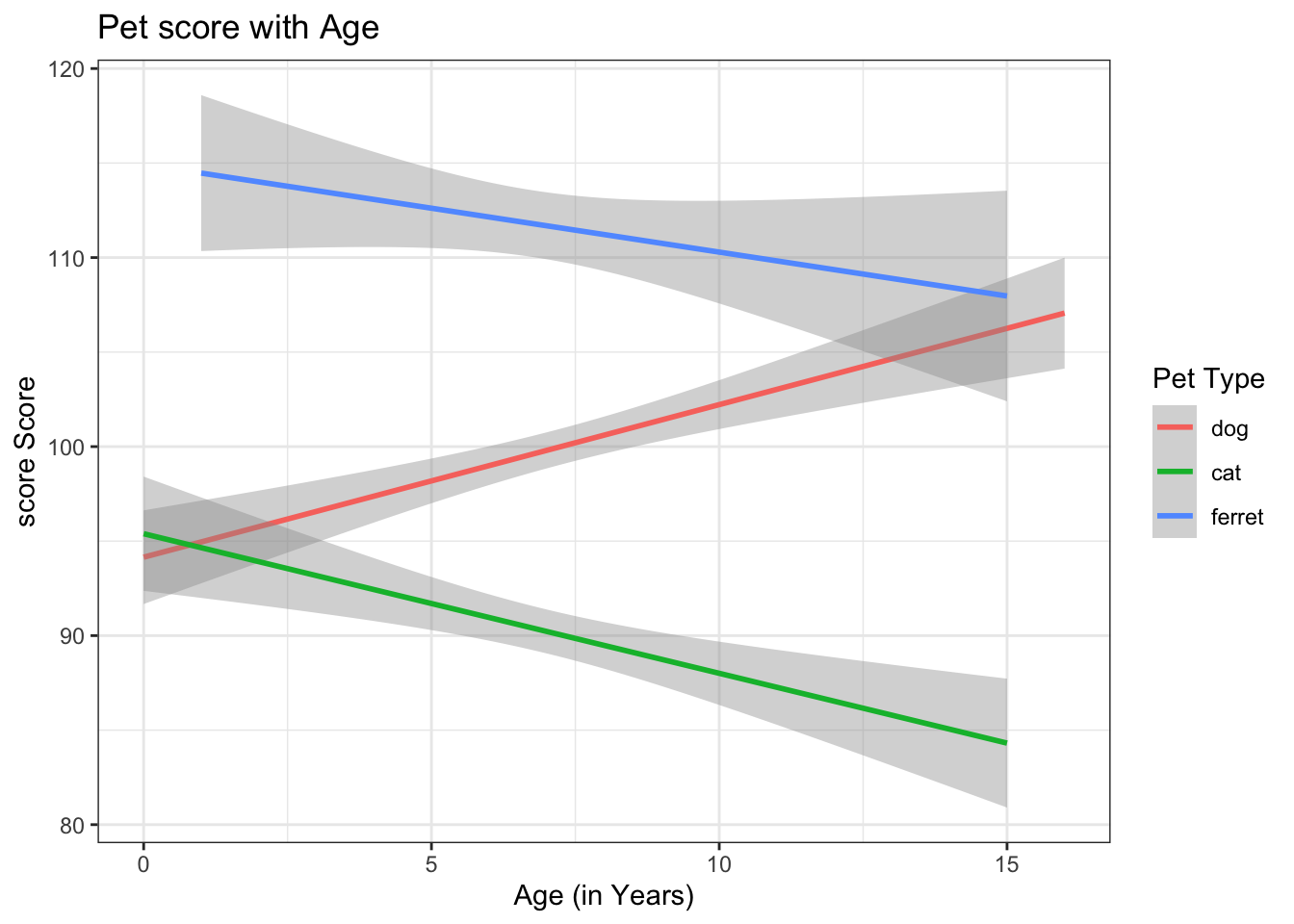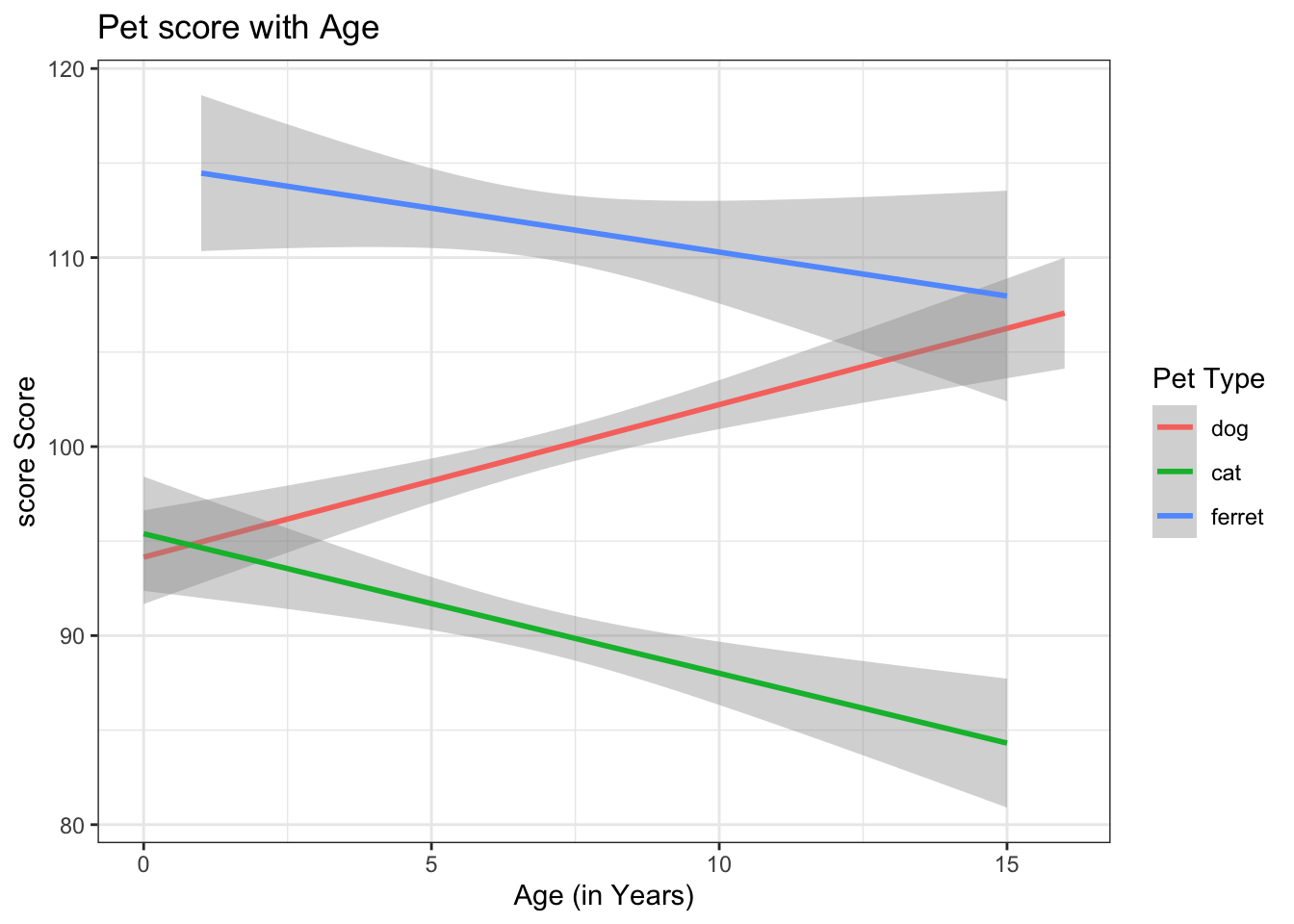 3.5.2

Colours

You can set custom values for colour and fill using functions like scale_colour_manual() and scale_fill_manual(). The Colours chapter in Cookbook for R has many more ways to customise colour.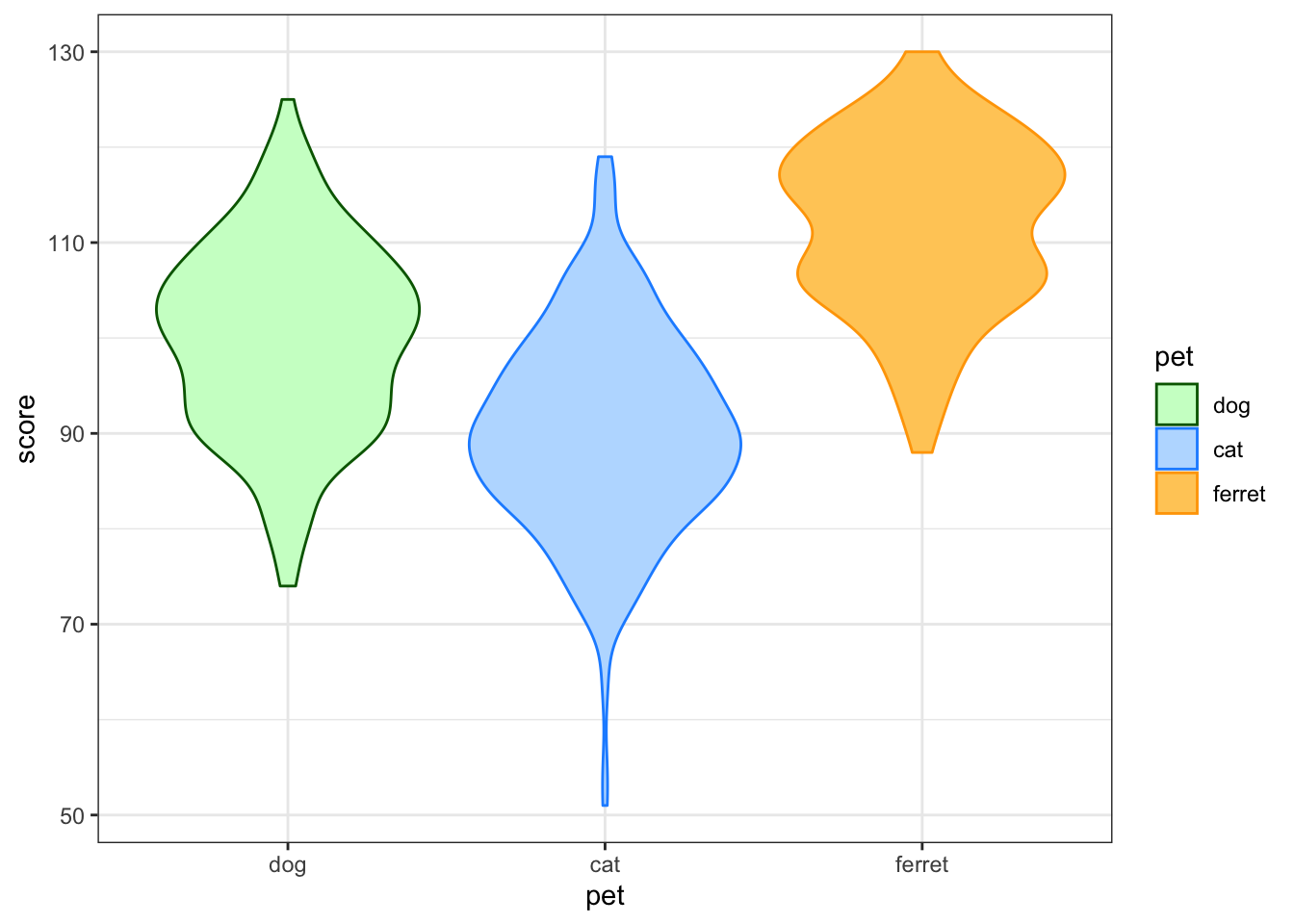 3.5.3

Save as File

You can save a ggplot using ggsave(). It saves the last ggplot you made, by default, but you can specify which plot you want to save if you assigned that plot to a variable.

You can set the width and height of your plot. The default units are inches, but you can change the units argument to "in", "cm", or "mm".
3.7

Overlapping Discrete Data
3.7.1

Reducing Opacity

You can deal with overlapping data points (very common if you're using Likert scales) by reducing the opacity of the points. You need to use trial and error to adjust these so they look right.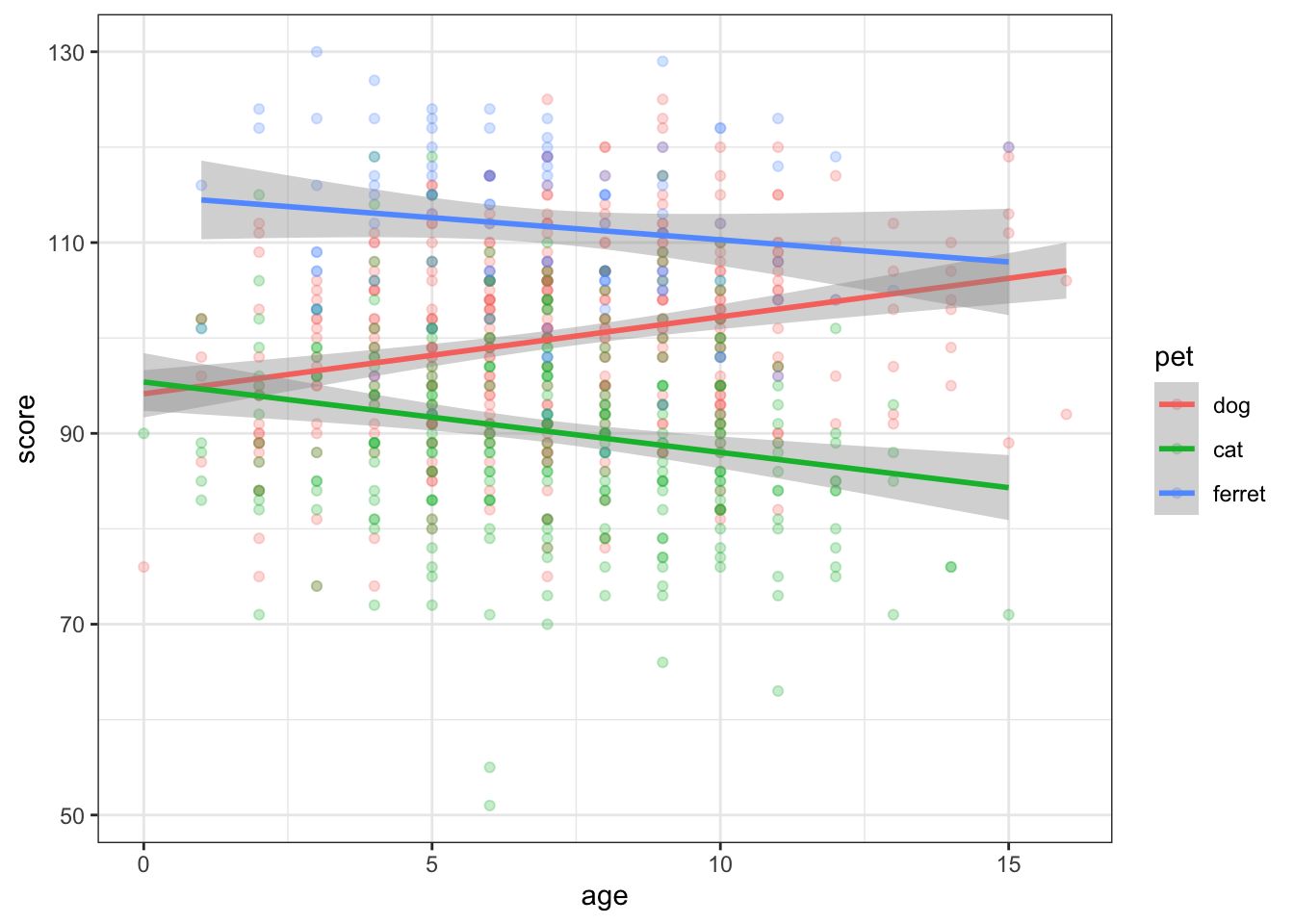 3.7.2

Proportional Dot Plots

Or you can set the size of the dot proportional to the number of overlapping observations using geom_count().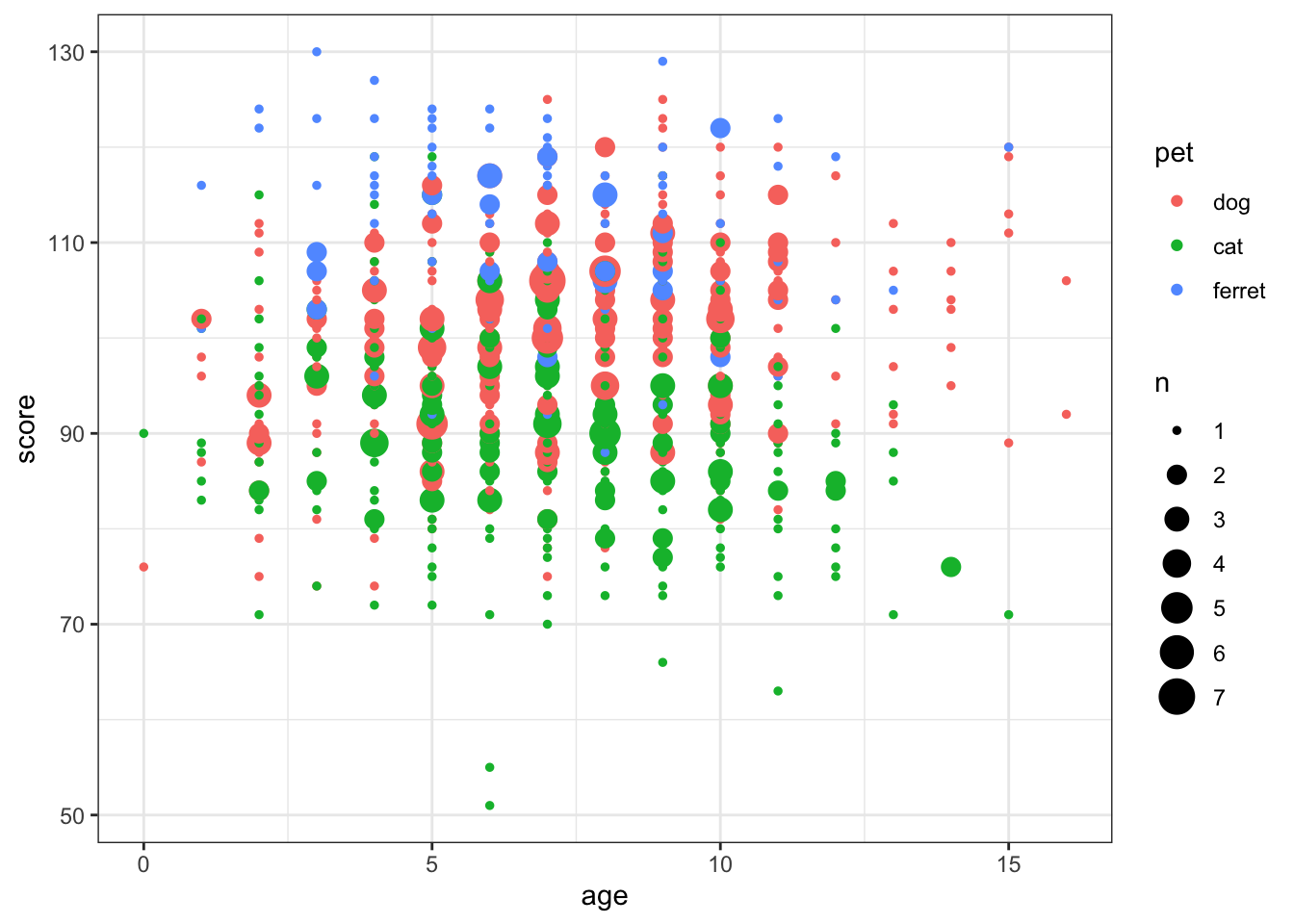 Alternatively, you can transform your data to create a count column and use the count to set the dot colour.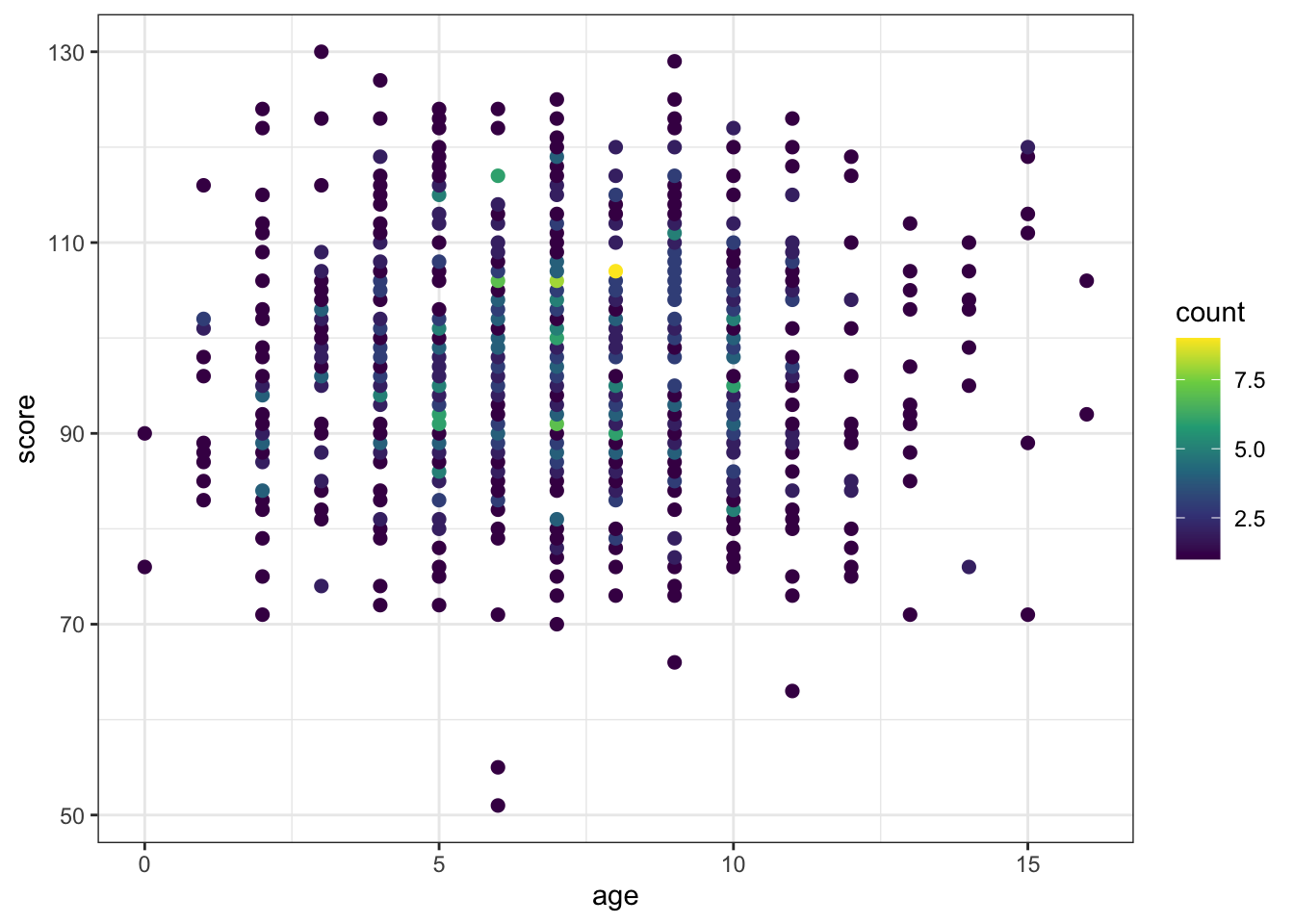 The viridis package changes the colour themes to be easier to read by people with colourblindness and to print better in greyscale. Viridis is built into ggplot2 since v3.0.0. It uses scale_colour_viridis_c() and scale_fill_viridis_c() for continuous variables and scale_colour_viridis_d() and scale_fill_viridis_d() for discrete variables.
3.8

Overlapping Continuous Data

Even if the variables are continuous, overplotting might obscure any relationships if you have lots of data.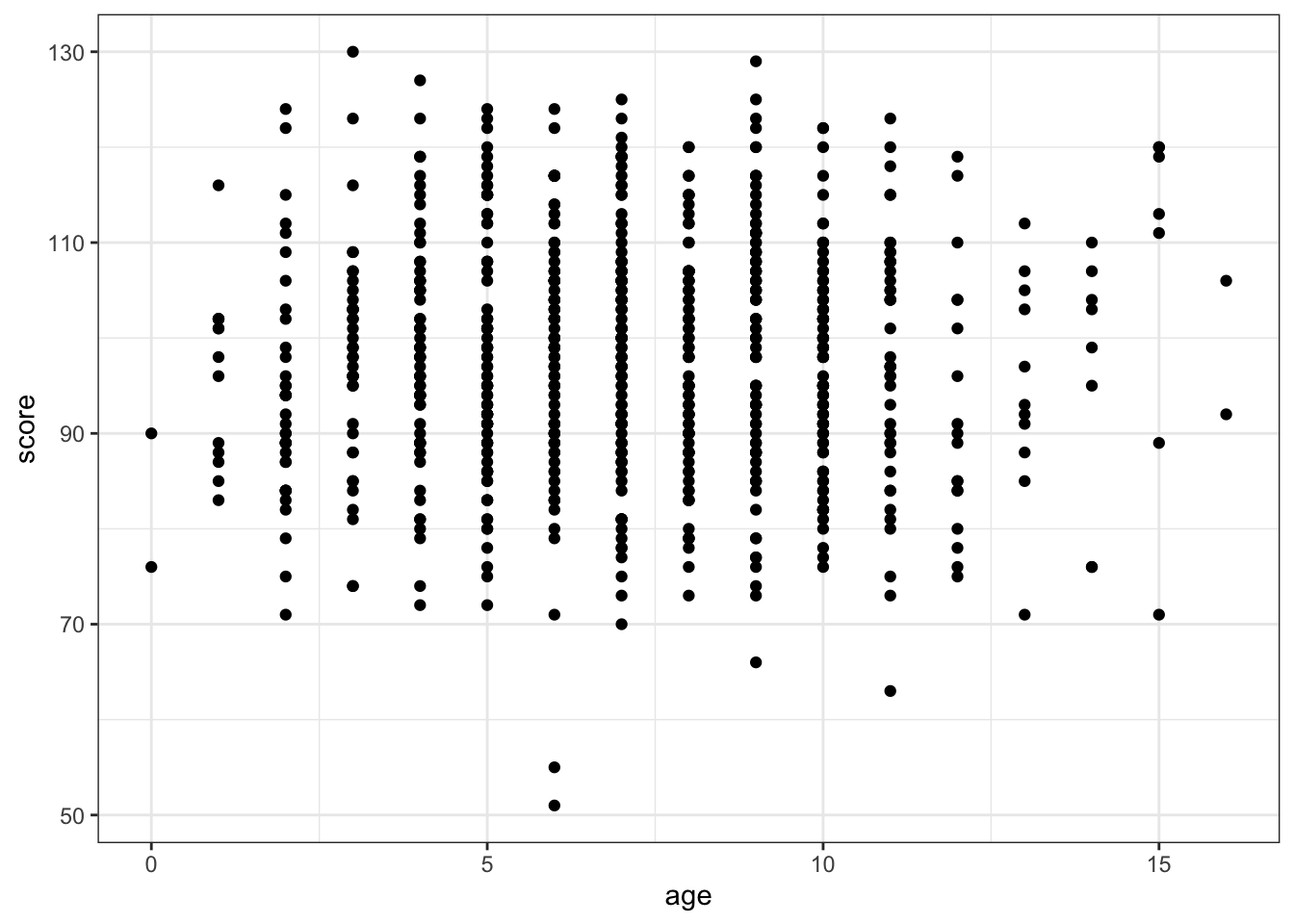 3.8.1

2D Density Plot

Use geom_density2d() to create a contour map.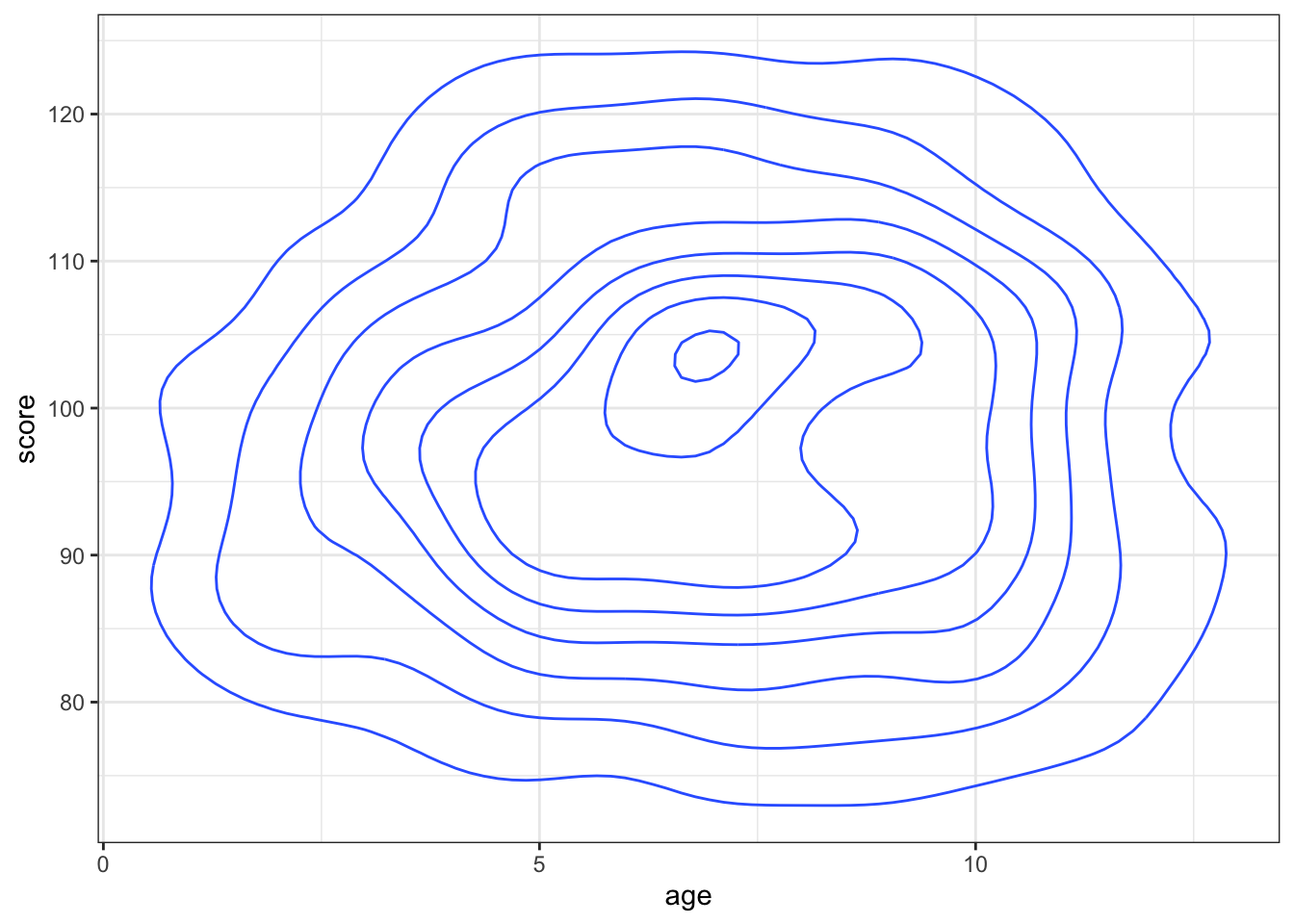 You can use stat_density_2d(aes(fill = ..level..), geom = "polygon") to create a heatmap-style density plot.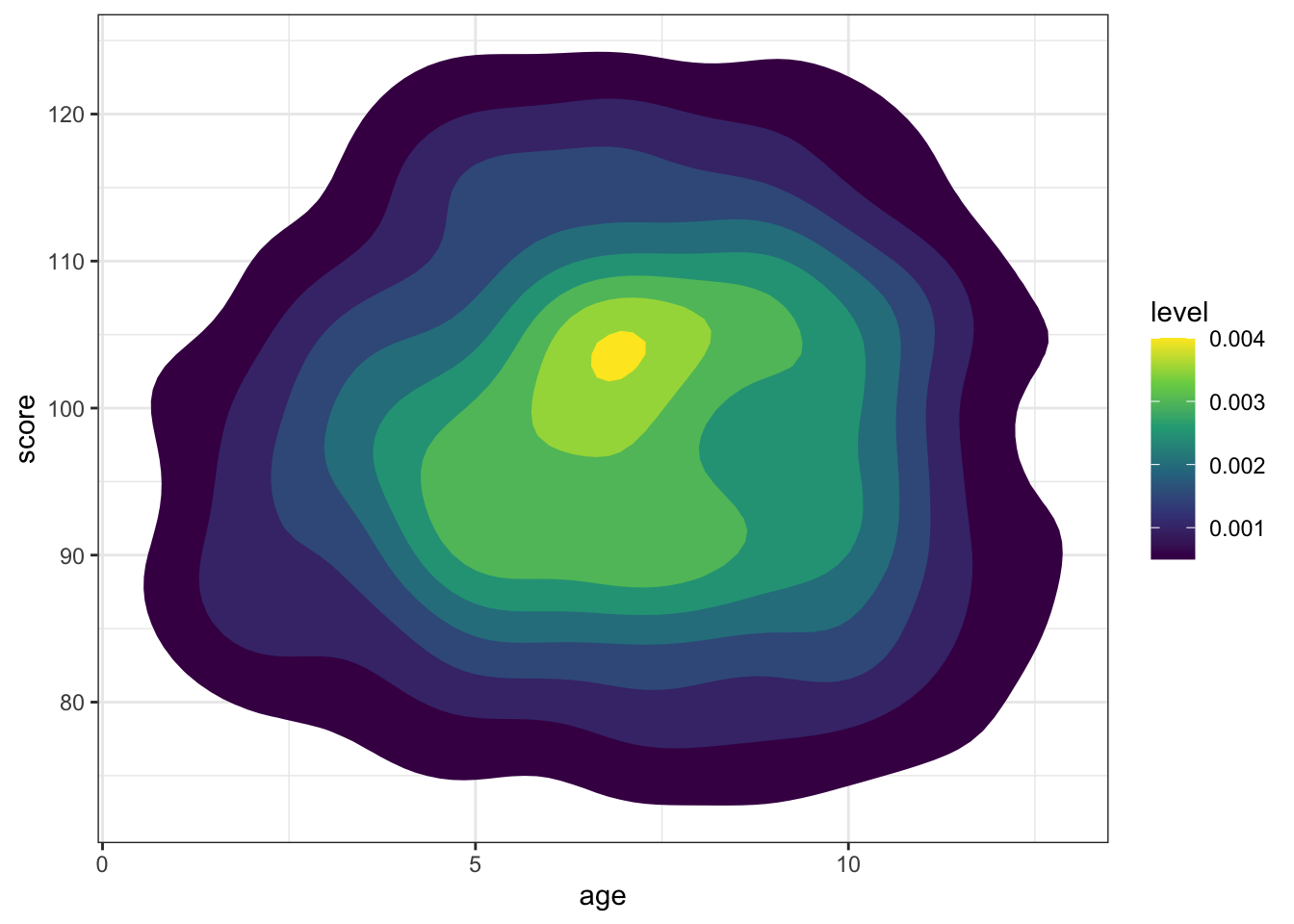 3.8.2

2D Histogram

Use geom_bin2d() to create a rectangular heatmap of bin counts. Set the binwidth to the x and y dimensions to capture in each box.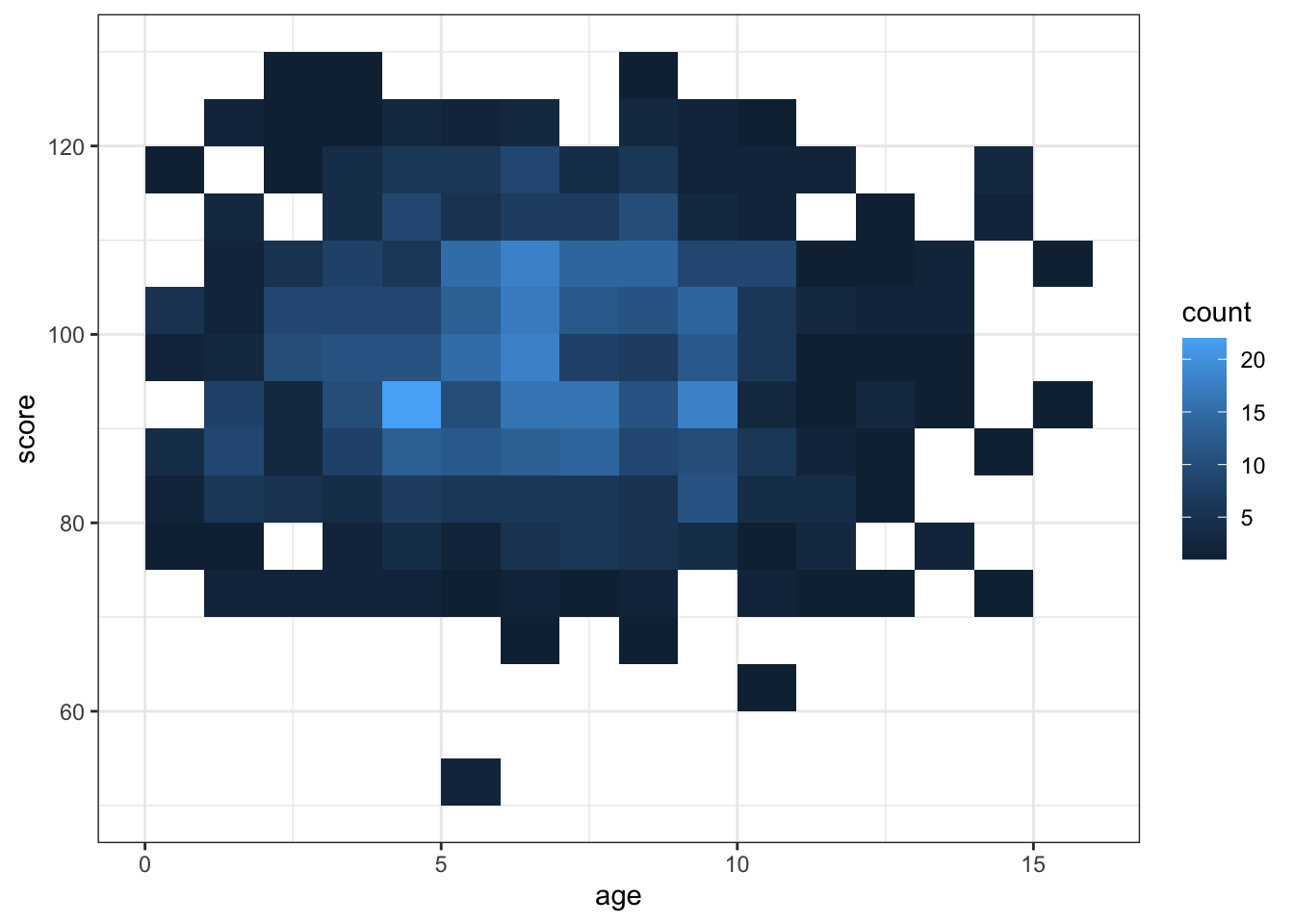 3.8.3

Hexagonal Heatmap

Use geomhex() to create a hexagonal heatmap of bin counts. Adjust the binwidth, xlim(), ylim() and/or the figure dimensions to make the hexagons more or less stretched.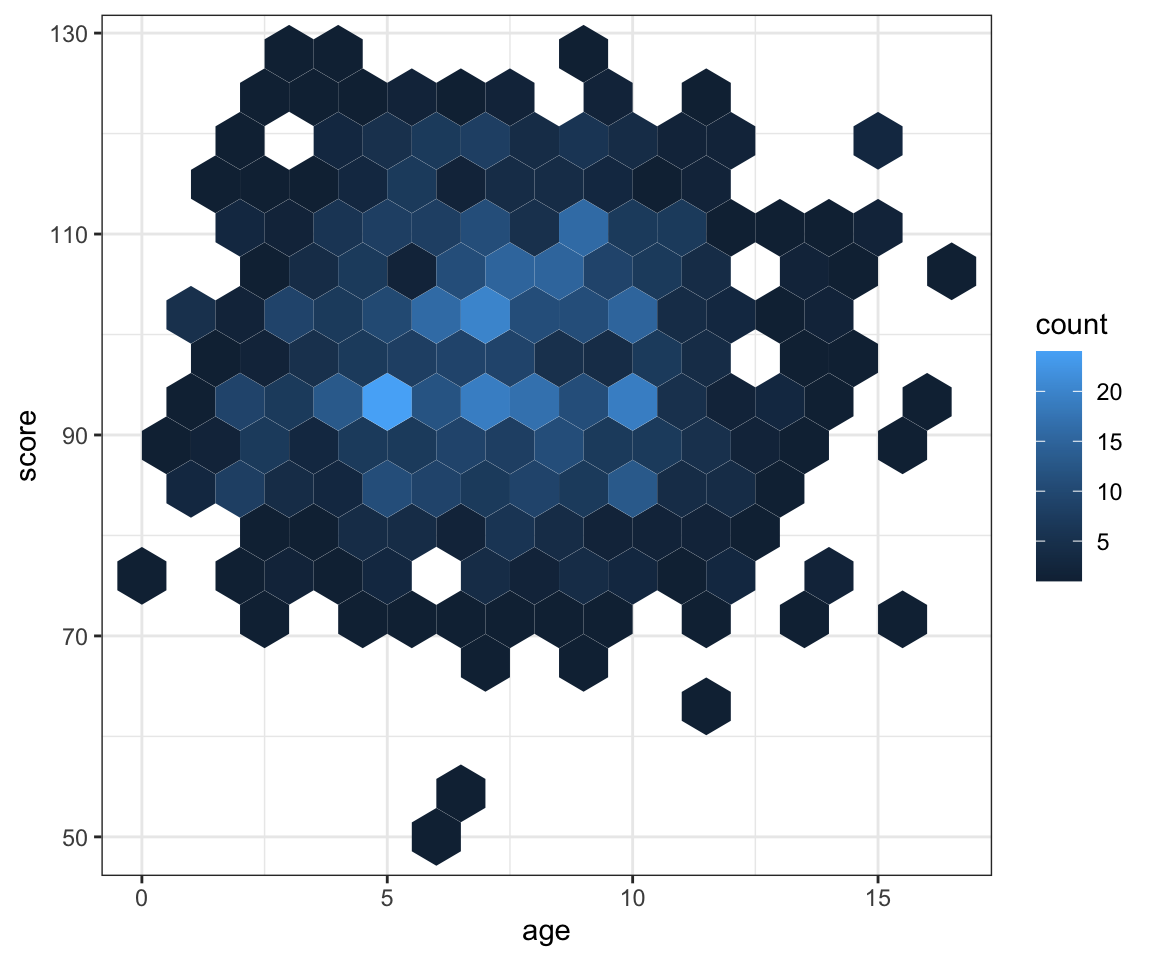 3.8.4

Correlation Heatmap

I've included the code for creating a correlation matrix from a table of variables, but you don't need to understand how this is done yet. We'll cover mutate() and gather() functions in the dplyr and tidyr lessons.

Once you have a correlation matrix in the correct (long) format, it's easy to make a heatmap using geom_tile().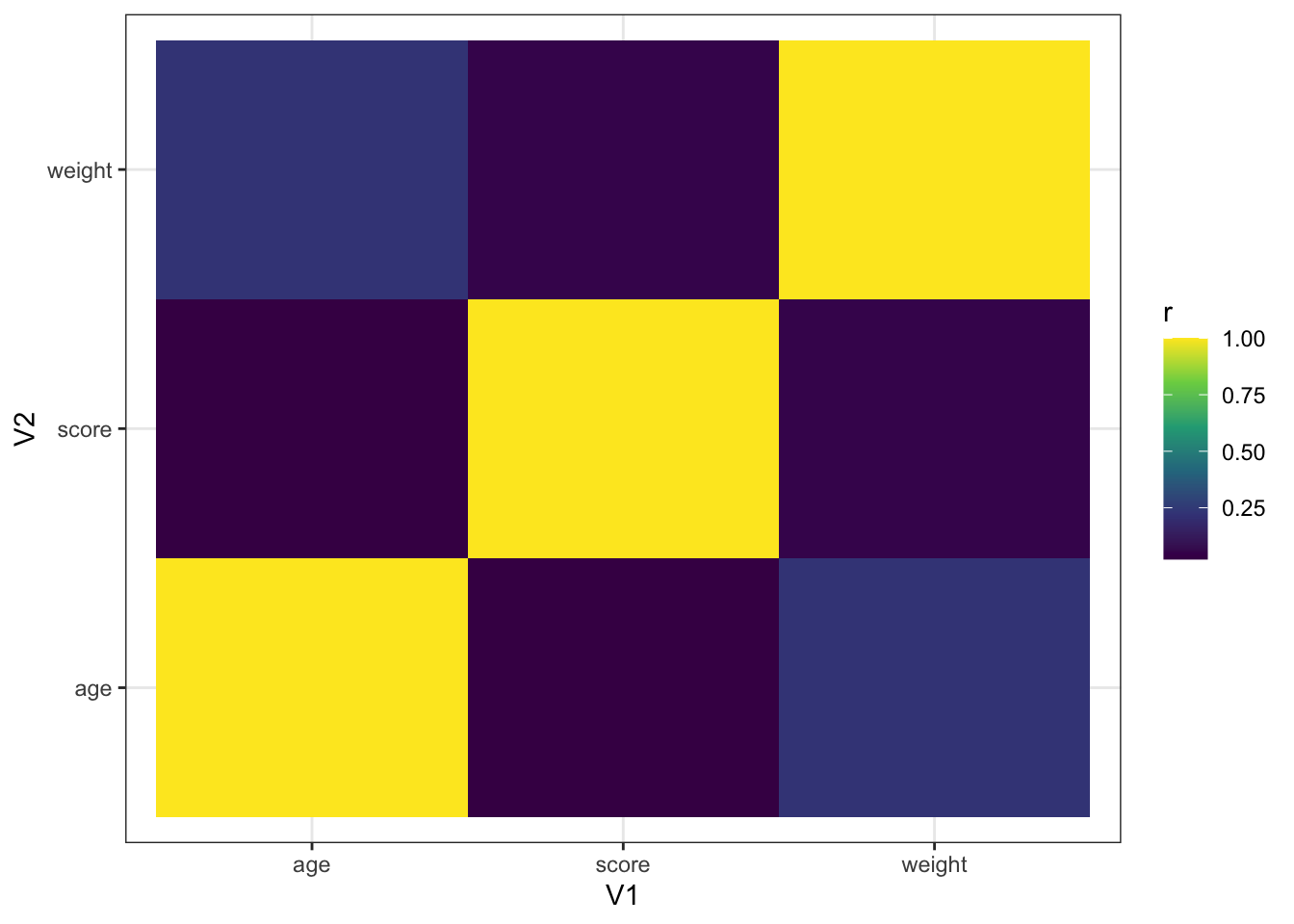 The file type is set from the filename suffix, or by specifying the argument device, which can take the following values: "eps", "ps", "tex", "pdf", "jpeg", "tiff", "png", "bmp", "svg" or "wmf".
3.9

Interactive Plots

You can use the plotly package to make interactive graphs. Just assign your ggplot to a variable and use the function ggplotly().

Hover over the data points above and click on the legend items.
3.10

Quiz
Generate a plot like this from the built-in dataset iris. Make sure to include the custom axis labels.

You have just created a plot using the following code. How do you save it?

Debug the following code.

Generate a plot like this from the built-in dataset ChickWeight.

Generate a plot like this from the built-in dataset iris.